Attorney Profile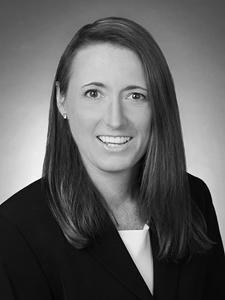 Megan H. Troy
Neither the content on this web site nor any transmissions between you and Troy Law Group PLLC through this web site are intended to provide legal or other advice or to create an attorney-client relationship.
In communicating with us through this web site, you should not provide any confidential information to us concerning any potential or actual legal matter you may have. Before providing any such information to us, you must obtain approval to do so from one of our lawyers.
By clicking "YES" below (and thereby choosing to communicate with us without such prior approval), you understand and agree that Troy Law Group PLLC will have no duty to keep confidential any information you provide.
Since 1997, Megan Troy has counseled clients on a broad array of telecom and high-tech legal, regulatory, and policy issues. Her clients range from established telecom providers to international equipment manufacturers to young tech and Internet start-ups. Prior to establishing the Troy Law Group, Ms. Troy was a partner at Sheppard Mullin Richter & Hampton LLP and K&L Gates.
Ms. Troy specializes in telecom and high-tech contracting and transactions, with a particular emphasis on government procurement and emerging technologies. Ms. Troy has substantial experience in creating and overseeing data management and cybersecurity plans, as well as developing and monitoring compliant and efficient ethics and compliance programs.
On the policy front, Ms. Troy helps her clients develop and implement their government strategies, often representing their interests before Congress, as well as federal and state agencies. In addition, Ms. Troy has been an authority for years on lobbying disclosure, campaign finance, and other political ethics matters. She counsels clients on compliance with federal and state lobbying compliance laws, Congressional and Executive Branch ethics rules, federal election laws and campaign finance, and the laws regulating political action committees (PACs).
Ms. Troy is an experienced litigator, appearing regularly before federal and state courts and regulatory agencies.
Ms. Troy speaks frequently at conferences and webinars in Washington, D.C., across the U.S., and abroad, addressing issues such as telecom and IT procurement, wireless and next-generation network deployment, and joint use and pole attachment regulation. Ms. Troy has published numerous papers, articles, and blogs on a variety of issues of import to the communications and high-tech industries.
EDUCATION
J.D., Georgetown University Law Center, 1997, cum laude
B.A., University of California at Los Angeles (UCLA), 1993, magna cum laude
BAR ADMISSIONS
District of Columbia
California
COURT ADMISSIONS
Northern District of California
Eastern District of California
Central District of California
Southern District of California
HONORS
MEMBERSHIPS
Advisory Board, Pike & Fisher's Communications Regulation
American Bar Association
DC Bar Association
Federal Communications Bar Association
SPEECHES
"Negotiating in Real Time," CAUCUS IT Procurement Academy, Chicago, Illinois (May 1, 2018)
"Negotiating a Telecom and Enterprise IT Agreement in an Interconnected World," CAUCUS 22nd Annual IT Procurement Summit, New Orleans, Louisiana (Nov. 7, 2017)
"Overview of the FCC Pole Attachment Order" and "The Effects of the April 7th FCC Pole Attachment Order - A Legal Perspective," Heartland Conference, Detroit, Michigan (May 4, 2011)
"The Pole Attachment Order and the Future of Joint Use," Featured Speaker at an Interactive Webinar hosted by BNA (April 26, 2011)
"FCC/Broadband Plan: Legal Round Table," Heartland Conference, Columbus, Ohio (October 20, 2010)
"Regulating the Unregulated: Government Intervention in the United States Wireless Industry," International Telecommunications Society, 18th Biennial Conference, Tokyo, Japan (June 29, 2010)
"National Broadband Plans: An International Look," Update on U.S. and International Wireless & Data Issues, Federal Communications Bar Association, Washington, DC (May 26, 2010)
"The National Broadband Plan: Recommendations," Heartland Conference, Columbus, Ohio (May 5, 2010)
"Joint Use: An ILEC Perspective," Heartland Conference, Plainfield, Indiana (May 6, 2009)
"Update on Key U.S. and International Wireless Issues: Legal and Regulatory, Market and Technical Views—What is in Store for 2009?," Panel Moderator, Federal Communications Bar Association, Washington, DC (April 16, 2009)
"The Pole Attachment Survival Guide: Navigating the New Joint Use Environment," Featured Speaker at an Interactive Webinar hosted by Pike & Fisher (March 25, 2009)
"The Future of Joint Use in a Uniform Rate World," Wisconsin Utilities Association, 2009 Joint Use Conference, Wisconsin Dells, Wisconsin (March 18, 2009)
"Joint Use: Lessons Learned and a Look Ahead," Heartland Conference, Akron, Ohio (November 18, 2008)
"Telecom Year in Review: Regulatory and Legislative Developments in the United States," International Telecommunications Society, 17th Biennial Conference, Montreal, Canada (June 26, 2008)
"The Effects of September 11th on the U.S. Telecommunications and High–Tech Industries," Center for International Legal Studies, High–Tech Law: E–Commerce, Information Technology, and Telecommunications Conference, Kitzbuhel, Austria (January 14, 2003)
"Customer Information: Utility Customer Privacy," Utilities Telecom Council Annual Meeting (UTC Telecom 2001), Milwaukee, Wisconsin (June 25, 2001)
ARTICLES
"The FCC's Pole Attachment Order and the Future of Joint Use," Communications Environmental & Land Use Law Report (CELULR), Vol. 2011, No. 6, June 2011
""Replacement of the Legacy High-Cost Universal Support Fund with a Connect America Fund," Communications & Strategies, 80, 4th Q. 2010, November 2010
"Broadband Infrastructure Issues: The National Broadband Plan and the FCC Pole Attachment Proceeding," Communications Environmental & Land Use Law Report(CELULR), Vol. 13, No. 10, October 2010
"A Legal and Economic Justification for a Uniform Pole Attachment Rate. Part III: Establishing a Reasonable Pole Attachment Rate," Communications Environmental & Land Use Law Report (CELULR), Vol. 12, No. 1, January 2009
"A Legal and Economic Justification for a Uniform Pole Attachment Rate. Part II: The Industry Players React," Communications Environmental & Land Use Law Report (CELULR), Vol. 11, No. 12, December 2008
"A Legal and Economic Justification for a Uniform Pole Attachment Rate. Part I: The History and Current State of Joint Use," Communications Environmental & Land Use Law Report (CELULR), Vol. 11, No. 11, November 2008